Garrett Hill Quartz Countertops
Quartz Countertops in Garrett Hill PA 19010
Garrett Hill Quartz Countertops in Pennsylvania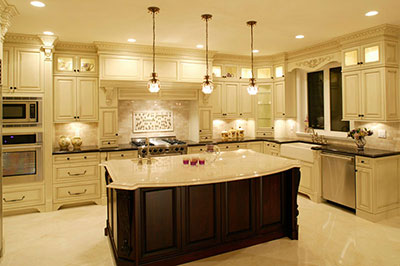 Quartz countertops are incredibly durable and ideal for many homes and workplaces in the Garrett Hill PA area. The range of colors on quartz countertops is much greater than that of marble or granite. This is due to the fact that it is a manmade material. Although there are naturally-occurring quartz crystals in its composition, there is a non-porous resin that binds it together. Despite not being a natural surface, many suppliers often offer quartz countertops in colors that can mimic the patterns of marble and other natural stones.
At AAA Hellenic Marble, we carry a wide variety of quartz countertops from the leading providers in Pennsylvania. Included within our selection are products from Silestone, Caesarstone, Hanstone, Pental, Quartz Masters, Cambria, Zodiaq and more. Our remodeling specialists will be more than happy to discuss the different benefits of each brand of quartz countertops to you as well as show you the large variety of colors and patterns available in our stock. At AAA Hellenic Marble, our professional staff will help you transform your home into a beautiful contemporary environment.
Garrett Hill Quartz Kitchen Countertops
When you are considering remodeling your kitchen, remember that the addition of a quartz countertop will offer a number of benefits to your Garrett Hill home. The surface of quartz offers a durability similar to granite, but is also much more resistant to chips or cracks. When you install quartz countertops into your kitchen, you will not only increase the value of your home, but also create a beautiful contemporary space. In Pennsylvania, quartz countertops are quickly becoming one of the most popular countertop surfaces among homeowners and interior designers alike.
Quartz countertops are non-porous materials, making them an ideal surface for any Garrett Hill kitchen. Non-porous materials are very easily sanitized and will also prevent stains from setting in. Although, one downside to a quartz countertop is that it is not resistant to heat. You must be careful about placing hot pots and pans on its surface. If you are looking for quartz countertops beyond the kitchen, you may wish to know that the surface can make a great addition to a bathroom. Quartz is naturally water-resistant and, unlike granite, does not need to be sealed in order to maintain this quality. Any fingerprints or smudges on a quartz countertop can easily be removed with a quick cleaning, and it is also resistant to mold.
Garrett Hill Quartz Countertop Showroom
When you visit AAA Hellenic Marble's showroom near Garrett Hill PA, you will be able to see firsthand what a quartz countertop could look like in your kitchen. Due to its durability, quartz surfaces can be molded into more intricate designs without the presence of unattractive seams or cuts. Have you ever heard of a granite sink? These surfaces are a seamless stone sink made out of quartz and resin that is extremely beautiful, durable and resistant to stains. This sort of surface is just one example of the possible cuts that can be made into quartz surfaces.
Perhaps the greatest benefit to visiting AAA Hellenic Marble's quartz countertop showroom is that we also have a slab yard on the property. Our granite yard features a growing stock of uniquely colored and patterned stones to find your perfect quartz countertop. Our remodeling specialists will walk through the showroom and yard with you to fill you in on the latest trends in Pennsylvania, and also discuss how you can further beautify your home. If you're a resident of Garrett Hill PA looking to improve your home or place of business, call (610) 344-7700 today!
Our Garrett Hill Remodeling Services in Pennsylvania Include:
Kitchen Counter Tops
Vanity Tops
Bar Tops
Fireplace Surrounds & Mantels
Bathroom Remodeling
Tile Backsplashes
Tile Floor Installations
---
Our Products Include:
Granite
Marble
Tile
Limestone
Travertine
Soapstone
Quartz
Paver Tiles
For individuals seeking Garrett Hill quartz countertops for a kitchen remodel or searching for Garrett Hill quartz countertops for a bathroom remodel in Garrett Hill PA 19010, call (610) 344-7700 or send us a message.
---

AAA Hellenic Marble
301 East Market St
West Chester, PA 19382
Monday-Friday: 8:00AM – 5:00PM
Saturday: 8:00AM – 4:00PM
Phone: (610) 344-7700
---