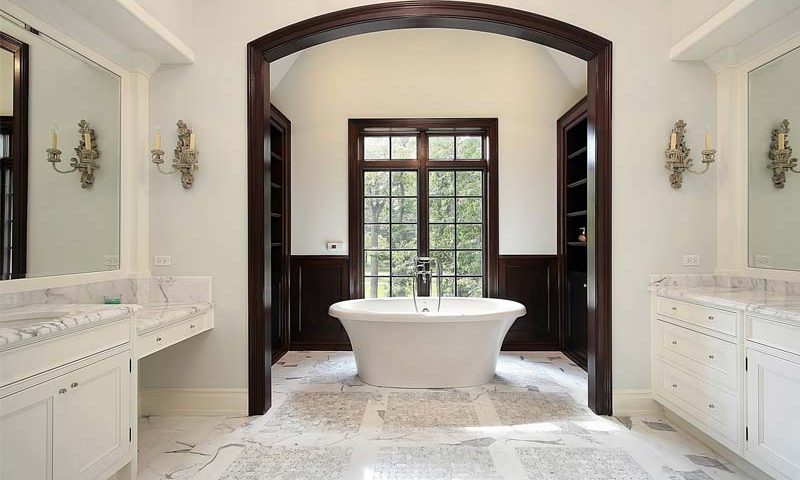 No matter the season, your bathroom is the one place you can go to feel relaxed and renewed. In the winter, a warm bath is the best way to end a freezing day before crawling into bed. In the summer, it's the place to feel clean and fresh after spending a day in the sun, saltwater or chlorine.
This is why your bathroom shouldn't be boring – it should feel like a luxurious experience during each bath, shower, face mask and morning routine. Unfortunately, not all homes come equipped with a spa-like bathroom, and may take a few renovations to become the relaxing space you deserve. Here are a few upgrades you can make to turn any bathroom into a spa:
Two sinks: If you have a shared bathroom, it can be frustrating to see dried toothpaste or hair in the sink when you want a clean place to wash your face and brush your teeth. Having two sinks creates a space that is yours only, even in a shared environment!
New materials: By simply changing the color and texture of the tiles on your bathrooms floor, countertops and shower, you can transformation the entire look of your bathroom. Doesn't a walk-in marble shower sound more luxurious than a shower-tub with standard white tiling?
Updating fixtures and decor: Even the smallest changes, like switching out your sink faucets or lighting to a more clean, modern version, can make your bathroom feel more luxurious. Get rid of those old towels and bathmats and add newer, soft ones that match your tiles and hardware. If your bathroom has natural sunlight, you can even add small plants to bring nature into your home.
AAA Hellenic Marble & Tile has skilled craftsman and a large selection of materials guaranteed to transform your home! If you're ready to turn your bathroom into a luxurious spa, call us today at (610) 344-7700.